Description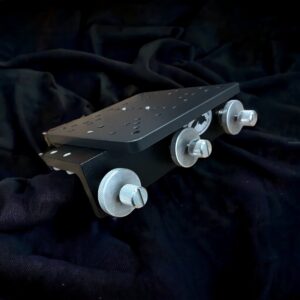 Superior Fishing Product's Heavy Duty Lund 90-degree Downrigger Sport Trak comes as a single mount. Each Lund Mount is designed to fit securely into Lund's gunnel system. Our one-piece design and easy-to-install features allow for quick installation of our product. While keeping your equipment low to the boat, rest assured your ride will be noise-free as our mounts do not move!
**Note** these do NOT fit the 2022 and up Lund Fisherman models
Installation Steps:
1. Insert the t-bolts into the end of the track
2. The verticle lines at the end of the small nobs line up with the t-bolt
3. Slide our mount along the track
4. Turn small knobs (vertical line) verticle
5. Tighten the three larger knobs at your desired location
By capturing four points of contact of the gunnel, the underside, and the top, our Lund mounts can be attached to various aluminum Lund models. This dispersement of the torque ensures the gunnel's integrity remains intact. This mount comes with pre-drilled and tapped holes that will allow the mounting of all major brands of downriggers. The top plate may be positioned in multiple locations to correctly place your downriggers on the gunnel.
Color & Coating 
Our Lund Mounts come with a black Cerakote finish to them. Cerakote is a thin-film resin coating that has even more durability than a powder coat. This ceramic coating stands up to any rigorous and harsh conditions found on the water.
All our products are custom made; if you have any questions or concerns about your product after you have used the product, please let us know! We are continuously working on improving our products and making them the best fishing products on the market.
Free Shipping or Local Pickup
We offer free shipping to our customers in the United States. If you are a local customer, we can coordinate a local pick-up time to get your product faster.  Canadian customers, please email us at superiorweldingmarine@gmail.com, so we can determine timing and cost.
Please note that our products are mostly custom order, so up to a 14 day lead time can occur depending on current demand. If you'd like a firm delivery date, please email us at superiorweldingmarine@gmail.com.