Description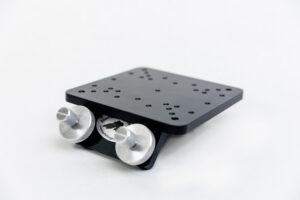 Superior Fishing Product's Lund 42° Sport Trak downrigger assembly comes with a single plate and a single mount. Superior Fishing Product's universal downrigger mounting plates come as a single plate. Each 6″ x 6″ plate has predrilled and tapped holes allowing you to easily mount downriggers to your boat. Our plates are CNC machined using sturdy 3/8″ thick aluminum.
Installation Steps:
1. Insert the t-bolts into the end of the track
2. The vertical lines at the end of the small knobs lines up with the t-bolt
3. Simply slide our mount along the track
4. Turn small knobs (vertical line) vertical
5. Tension the two larger knobs at your desired location
By capturing four points of contact of the gunnel, the underside and the top, our Lund mounts can be attached to various aluminum Lund models. This dispersemant of the torque ensures the gunnel's integrity remains intact. This mount comes with pre-drilled holes that will attach all of our fishing tree bases, our downrigger plates, all major brands of tracks, and various downrigger adapter plates on the market. Go ahead and mount your Mega 360 today!
Color & Coating
Our 42° Sport Trak Downrigger Assembly's come with a black Cerakote finish to them. Cerakote is a thin-film resin coating that has even more durability than a powder coat. This ceramic coating stands up to any rigorous and harsh conditions found on the water.
All of our products are custom made; if you have any questions or concerns about your product after you have used the product, please let us know! We are continuously working on improving our product and making it the best vertical fishing rod holder on the market.
Free Shipping or Local Pickup
We offer free shipping to our customers in the United States. If you are a local customer, we can coordinate a local pick-up time to get your product faster.  Canadian customers, please email us at superiorweldingmarine@gmail.com, so we can determine timing and shipping costs.
Please note that our products are mostly custom order, so up to a 14 day lead time can occur depending on current demand. If you'd like a firm delivery date, please email us at superiorweldingmarine@gmail.com.